Moonlight Ravine is an area in Castland that appears in Phoenotopia Awakening. This area is going to replace Misty Gorge and mainly revolves around shopping and searching for treasure. It will be the place for Gale to buy items like the Fishing Rod and the Floaty Donut. It also features plenty of fish to catch and money under the water to collect by diving.
Moonlight Ravine has an oriental-style atmosphere, including some of the NPCs' clothing resembling either kimonos or bamboo hats.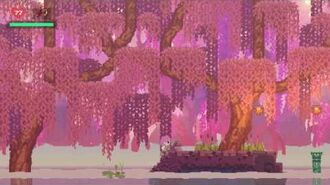 Trivia
Moonlight Ravine was named after the Moon Fruit that hangs from its trees.